International Student Unit Director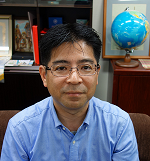 Hai-sai! (Hello), I am Dr. Takemitsu Arakaki,
the newly appointed director of the Global Education Center International Student Unit at the University of the Ryukyus. I am a professor of the Chemistry
Department, and my research specializes in Environmental Chemistry, in particular trans-boundary air pollutants.
I studied for my Master's and Ph.D. degrees at Duke University in the U.S, so I was once an international student myself.
To this date, I still remember vividly the advice I was given at the orientation held for the international students. The then director of the International House at Duke
University said: "I know that you came here to study hard. But you should not stay in the library all the time. That should only be half of the reason you are here. The other half is to discuss about all kinds of things with your professors, your fellow American students as well as students from other parts of the world. That will make your student
life a more valuable experience".
I would like to pass on these words to you. I would like to encourage all the international students who came to Okinawa to enjoy Okinawa's nature, to learn the culture, and to meet
with local people, to experience things that you can never learn from reading a book. Also, please meet with other international students from all over the world and enjoy communications with them.
The teachers and staff members of the International Student Unit are here to support you, so please come to the Center if you have any questions or if you need any help.
I wish you will have an enjoyable and fulfilled student life in Okinawa.