University of the Ryukyus Global Festival 2017
Festival Date and Venue
Saturday, December 9th, 2017
12:00 pm. – 4:00 pm.
1st floor, Global Education Center, University of the Ryukyus
*6th December, 2017 Update
designed by Rino Arakaki
translated by Alison Kei Yamamoto
Contents
*9th December, 2017 Update
Stage(Outdoor)
Indoor
Box Lunch Sales
※It is not in order of appearance. 
The Stage Program is here.
Ryukyu Classical Performing Arts by the Ryukyu Classical Performing Arts Club of University of the Ryukyus
Nigerian Song by Bode-san
Bluegrass Music by the Bluegrass Club of University of the Ryukyus
African Dance and Native Costume Fashion Show by African Students Group
Afghan Dance "Qarsak" by Afghanistan Students Group
Playing Musical Instrument and Songs
Writing Your Name in Several Language Character
Introduction My Country: Display goods, Slideshow and Video -China(Fujian Province), Argentina, Bolivia, America, Finland, Sweden, France, Servia
Nigerian Goods and Clothes Sale
Making Myanmar's Natural cosmetic cream from Tanaka Tree: Demonstration
Experience Making "TUNYAI-Thai Buddhist Festival Goods"
Asian and African Native Costume
Brazilian Coffee and Sweets
Serbian Coffee
Argentina Mate tea
Music Cafe
KYUDO(Japanese art of archery) Target Hitting Game & KYUDO Uniform Dressing Experience
Overseas Partner University Pamphlets Display
Argentina food
Chinese food
Turkish food
Halal Food
Call for Participants 
–> We have stopped accepting applications.
※Click to open the PDF file
All kinds of performance/exhibition of all international students / group of students including at least one international student of University of the Ryukyus are WELCOME!!
*except food stands or professional performers
carousel
images not found
Deadline of Participants Application 
–> We have stopped accepting applications.
Supporter: Thursday, November 9th, 2017
Performance, Exhibition: Friday, December 1st, 2017
About the Orientation Meeting for Participants 
–> Finished
Thursday, November 9th, 2017
*Show Details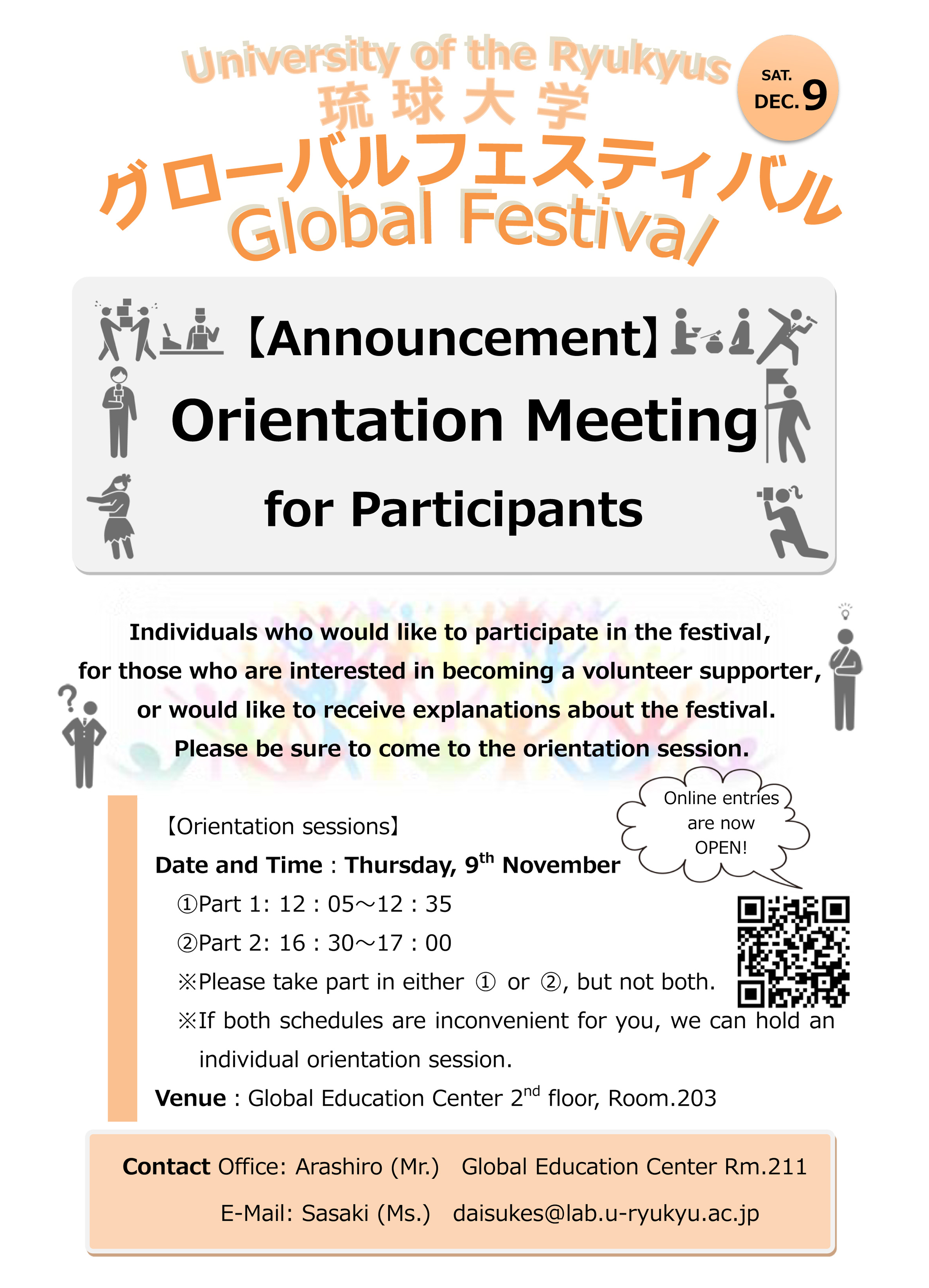 Contact
Ms. Kayoko SASAKI (Email: daisukes@lab.u-ryukyu.ac.jp)
Mr. Naoki ARASHIRO (Office: Global Education Center #211)